To Produce King Island Christmas
King Island Christmas can be done as a concert, fully-staged theatrical production, or some combination of both.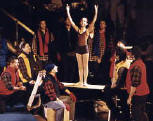 It has been produced by schools, professional theatre companies, community theatres and churches as their annual holiday presentation.
It has also been a successful fundraising event for hospitals, libraries, golf tournaments and other charitable organizations.
Please click on the drop down menu above to learn more.